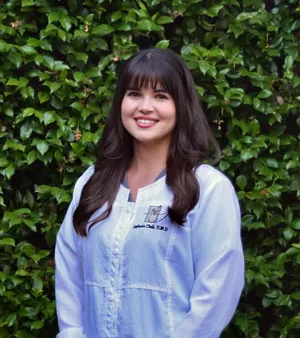 Dr. Stephanie Ann Cluff, lovingly known as Dr. Steph, was introduced to the world of dentistry at a very early age. Her mother, Dr. Ana Cluff would take her and her sister, Dr. D, to her practice to play quietly while she saw her beloved patients. Flash forward 20 years and Dr. Steph's hard work at San Diego State University and Midwestern University College of Dental Medicine in Glendale, AZ, paid off and she is now eager to serve the community she grew up in. Before going to dental school, she worked as an assistant in the family practice which only helped her grow her love of dentistry even more. Dentistry is deep rooted in Dr. Steph's family, with records of her great grandaunt being the town dentist. She is extremely proud of being a part of her family's legacy.
Dr. Steph emphasizes comfort and communication with her patients, aiming to provide the highest quality dental care in a safe and caring environment. Her passion for being a lifelong learner ensures she is up to date with the most modern technology and techniques in all fields of dentistry.
When not helping patients meet their goals, Dr. Steph loves outdoor activities like hiking, camping, ultimate frisbee and tennis, among lots of others.
Dr. Steph is a proud member of:
American Dental Association
California Dental Association
San Diego County Dental Society