Dentist in Lakeside and Chula Vista

Call Today for Your FREE Consultation!
At our office in Lakeside, California, we provide a full service, state-of-the-art dental practice designed to meet all your dentistry related needs. Our exceptional dentist and professional team bring you more than 30 years of combined experience producing healthy and beautiful smiles. We offer orthodontics and family dentistry services, as well as the latest technologies for cosmetic, preventive, and restorative dentistry in east San Diego County.
Meet Dr. Ana Cluff and Family
Maintaining good oral health involves more than just your teeth and gums, it's also an important part of both your overall general health and your everyday enjoyment of life. Dr. Ana Cluff and her outstanding team make every visit enjoyable by providing you with a relaxed and caring atmosphere. We are pleased to give outstanding dental care and cosmetic dentistry services to the residents of Lakeside, San Diego County, and all those who travel to see us from neighboring states because of the exceptional experience and care we provide.
Patients are saying…
Very very happy with my experiences with this office and so is my husband! The staff are so nice and really get to know their patients! Today I had a cleaning and they offered me an additional laser treatment that I really wanted to get, but my insurance doesn't cover it so I'll get it next time when I have a little more money. Anyways, when I told them they had NO problem removing it from that days plan and just doing the regular cleaning. Which doesn't happen with dentists that's much.

Everyone there is so friendly and sweet! I highly recommend going there!
Scarlett C.
Great dental office. Very friendly and professional staff. Dr. Ana Cluff is a fantastic dentist and took extraordinary care with my dental concerns! Like most people I imagine, I dread going to the dentist. Dr. Cluff made all my visits a comfortable experience. I wont go anywhere else for my dental needs!
Kevin C.
So many good things to say about this amazing office, I don't know where to start. I hadn't been to a dentist office in quite some time. To tell the truth I've dreaded my next dentist visit. This of course changed upon my first visit to Dr. Cluff's office, from start to finish I had a phenomenal experience. I was toured around the office on my first visit, as well as showed all of the various awards and certifications Dr Cluff has acquired in her time. This was great because I immediately gained trust with the office and the confidence I had come to the right place. Thank you Dr Cluff, Tracy, Kim, and all the other staff that helped brighten my day and my smile. Upon the end of my visit I can truly say I am excited for my next visit and ecstatic about what is in store for the health of my teeth.
Andrew S.
I just got back from another great visit with Dr.Cluff and her friendly staff! I had a cleaning and a filling and felt NO pain what so ever! She's aways honest and cares about how I feel and if there is anything she can do to make my visit better. I would for sure recommend her and her staff to all my friends and family. I will see her again for my next cleaning in six months.
Shelly P.
My family has been using Dr. Cluff since she took over Dr. Kramer's practice in 2009. Over these years I have grown to know and trust Dr. Cluff. Her support staff and hygienists are also professional and friendly. She always explains why she is doing a procedure and what it entails. She can perform all our dentistry needs in house and she has state of the art equipment. I would recommend Dr. Cluff as a family dentist. I would give Dr. Cluff 4 stars because after all she is a dentist, but I'm giving her 5 stars because I am comparing her to other dentists I have experienced.
Bill N.
My daughter was home from college for winter break and needed to be seen for a broken tooth. Her regular dentist examined her and said it would take 2 weeks to get the crown that was needed. My Mother is a long time patient of Dr Cluff's and recommended we see her. My daughter had an appointment today at 1pm and walked out of her office at 3:30pm with completed dental work and a new crown at half the price the other dentist quoted! Dr Cluff also recommended a change in preventive care with a different product for some ongoing concerns that other dentists have not taken the time to recommend. My daughter and I will be changing dentists, Dr Cluff will now have all three generations… Thank you
Debbie H.
I love Dr. Diana Cluff, she is not only an amazing dentist she always has happy energy and you feel completely confident in her work. I never fret going to the dentist office anymore. Heather the hygienist is also the best i've ever been to! My teeth/gums are now in great condition.
Donna L.
I loved it! With this pandemic going on they are doing great at keeping everyone separated. They are so friendly and easy going. Will continue to come and plan on taking me 21 month old for her first visit here 🙂
Denisse M.
I love this dental office. My entire family of five are seen at the Lakeside office. They explain before the work is completed in a way you will understand the treatment plan. Everyone is super polite and friendly. I definitely recommend this office! I used to dread going to the dentist but not anymore.
Jennifer L.
I really like this dentist. They truly make comfort a priority. Having bad experiences in the past with dentists made me nervous to go to a new dentist, but this place is wonderful.
Sierra H.
This office is AMAZING! Each member of my family was treated as a patient, not a number. All the staff, especially the hygienist, Heather, and the dentists are fantastic!
Trachsel F.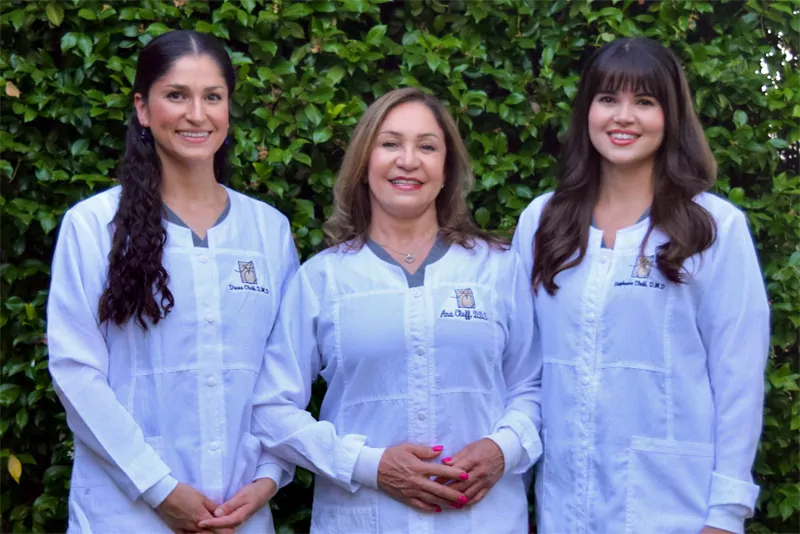 Ana Cluff, DDS has been recognized as one of the top Lakeside Dentistry practices. Verified by Opencare.com
---
Let Us Help You On Your Journey to a Healthy, Beautiful Smile!
Please call us today, so we can schedule you for a FREE dental health consultation.